MultySkype is free-ware program that allows you to run multiple Skype instances on the same computer. It automatically detects the Skype location at your system and makes it possible to run Skype multiple times and use different logins. If you have several Skype identities the MultiSkype tool will be useful for you. For example you may login to your Home and Work accounts at the same time.
Instruction for Multiple Skype Launcher
Download MultiSkype utility to your computer ( ZIP 483 Kb )
Extract the content of ZIP archive (the executable)
Run MultiSkype utility
Press the button to run Skype
Use your username and password to login the Skype
Press the Run button again to launch another Skype copy at the same computer
Repeat steps as much time as you wish.
Note: Please don't forget that Skype consumes the traffic.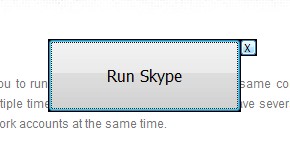 Mouse Clicker and Recorder (Mouse Events Recorder) free tool which makes possible to record your mouse movements and clicks then play them single or multiple times. If you want to automate something this software will help you to do so. With Mouse Events... Read more
MultySkype is free-ware program that allows you to run multiple Skype instances on the same computer. It automatically detects the Skype location at your system and makes it possible to run Skype multiple times and use different logins. If you have several... Read more